CARNITAS (CRISPY MEXICAN PULLED PORK)
About recipe
Cut short cooking time & make this Easy Multi Cooker Carnitas Recipe (Pressure Cooker Carnitas)! Crispy & Juicy Mexican Pulled Pork is so addictive to eat. Add a scoop of refreshing Salsa for tacos, burritos, or tamales.
Ingredients
Servings
1
(~1475g) pork shoulder meat (pork butt meat) , cut into 2 – 2 ¼ inches cubes
(~⅘ cup) unsalted chicken stock
(13g) garlic cloves , crushed
(200g) medium onion , roughly chopped
(2g) cinnamon powder or 1 cinnamon stick
juice from 1 fresh orange
Best devices for this recipe
See all
Electric Pressure Cooker PM4506A
Electric Quick-Heat Rice Cooker EC001
Multi-Function Cooker RMC-M23A
You'll Enjoy Pressure Cooker Carnitas Because:
Simple & easy to make, yet addictive to eat!
Great texture & flavor – crisped browned edges + juicy & tender meat
Shorter cooking time comparing to the traditional or slow cooker methods
Versatile dish – can be made into tacos, burritos, tamales, or eat with rice…
Made with mostly whole, real ingredients
Pressure Cooker Carnitas are Great for:
Mexican fiesta celebrations (e.g. Cinco de Mayo)
Outings, Picnics, Potlucks…
Holidays, Dinner Parties, Gatherings…
Game Days, Football Parties, Men's/Ladies' Night, Taco Bar Parties…
Utensils
Prepare Pork Shoulder Meat
---
Remove rind and bone from the pork shoulder meat. Cut pork shoulder meat into cubes (~2 – 2 1/4 inches cubes)
*Pro Tip: Don't throw away the excess fat!
Utensils
Marinate Pork Shoulder Cubes
---
Inactive Time (for Marinating): 20 mins
Place pork shoulder cubes & fat into the Redmond's inner pot.
Season very generously with kosher salt and ground black pepper.
Add 4 crushed garlic cloves, chopped onion, 1 tsp (2g) ground cumin, 1 tsp (2g) cinnamon powder, 2 bay leaves, 1 tbsp (15ml) regular soy sauce, and juice (55ml) from 1 orange to the inner pot.
Mix well and let the meat marinate for 20 minutes.
Utensils
Pressure Cook Pork Shoulder Cubes
---
Pour ~4/5 cup (200ml) unsalted chicken stock in the inner pot.
Close lid and pressure cook at
Pressure Cooking Method: High Pressure for 30 minutes + 15 minutes Natural Release
Release the remaining pressure after 15 minutes and open the lid carefully.
Utensils
Crisp Pork Shoulder Cubes
---
Transfer the pork shoulder cubes onto a baking tray.
*Pro Tip 1: Now is a good time to take a bite and see if the pork cubes are salty enough. If the pork cubes are not salty enough, add more kosher salt into the cooking liquid. Taste & adjust accordingly.
Drizzle some of the cooking liquid on to each piece.
*Pro Tip 2: The cooking liquid should be mostly fat. If not, mix ¼ cup (63ml) cooking liquid with 2 tbsp (30ml) of vegetable oil and drizzle over each piece of pork. The fat & oil will protect the meat from drying out and the surface will crisp faster.
Place pork shoulder cubes under a broiler or the top rack of a preheated 450°F toaster oven until the surface is crisped. Roughly 8 – 10 minutes.
Flip the pork shoulder cubes, drizzle each piece with more cooking liquid and place in the oven again until the surface is crisped.
Utensils
(Optional) Heat Corn Tortillas
---
If you are serving the Carnitas with corned tortillas, you can heat up the corn tortillas when the pork is browning in the oven.
Utensils
Serve Pressure Cooker Carnitas & Enjoy
---
You can shred the Pressure Cooker Carnitas with forks or leave them as chunks.
Place piping hot Instant Pot Carnitas on top of the warmed corn tortillas with a spoonful of salsa (Pico De Gallo). Finish off with a squeeze of a lime.
Ta da! Serve immediately & eat!!! 🙂
*Pro Tip: After crisping the carnitas in the oven, try to eat immediately or else the meat will dry out if you let it sit for too long.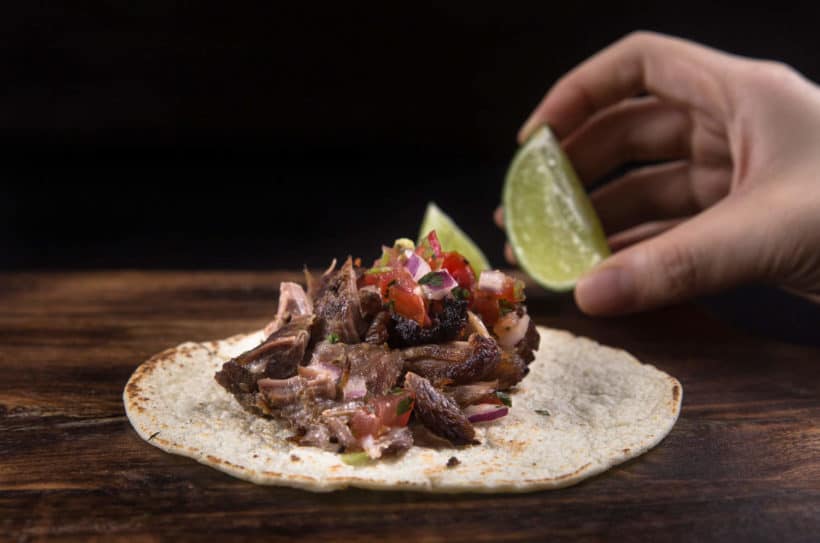 Utensils
There is no review yet
Help other users with the choice - be the first to share your opinion about this product.